FUNCTIONAL DETAILS AND SUSTAINABLE DESIGN
Swiss backpack brand QWSTION is known for combining design and functionality with sustainability. Since 2008 the design studio has been developing versatile carry solutions for everyday use – with an understated look and a low environmental footprint.




OUR ANSWERS
We believe a good answer is the result of the right question, and to find those answers we question the norm of how things are designed and made. We thrive on finding original solutions that are sustainable, to create those essentials that will be useful everyday. The Swiss modernist design heritage has influenced our collection, making continuous development and improvement our focus. Our Bags and products are developed in Zürich, in our own prototyping workshop. This allows to test new ideas and unique constructions in a very early stage of the product development, resulting in more refined products. Manufacturing is conducted with highest ethical and environmental standards both in Asia and EU.


ORIGIN
The story of QWSTION started in 2008, when Sebastian Kruit, industrial designers Christian Kaegi and Fabrice Aeberhard, graphic designer Matthias Graf and Hannes Schoenegger founded QWSTION in Zürich, Switzerland. We sought to create products that do just as well on the daily bicycle commute as when things get more formal in a business meeting. Our approach to development and focus on sustainable solutions draw on the Swiss modernist design tradition.
DESIGN & DEVELOPMENT IN ZURICH
We design and develop all of our products at our creative studio in Zurich. Doing our prototyping in-house allows us to test new ideas and unique constructions from a very early stage. We believe this results in better products.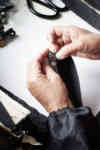 ETHICAL MANUFACTURING
QWSTION bags are designed and developed in Zurich, Switzerland. Manufac­turing takes place in Europe and China, while our most important partner is in the city of Huizhou, around 120 kilometers from Hong Kong. Since 2010 we've been working with the small factory owned and run by Mrs. Wan and Mr. Lai. They have more than 30 years of experience in making bags and over time we have built a close partnership which allows us to accomplish the high quality standards we set for ourselves. The factory is audited by BSCI (Business and Social Compliance Initiative), an EU initiative with the goal to implement European standards in Non-EU countries. Part of our unique approach to design and production is that we develop and source almost all materials directly. Our regular visits to suppliers enable us to know who makes our product and achieve exceptional quality. We believe in truth to materials and use renewable resources wherever possible for our shell fabrics, lining, straps as well as our metal hardware. We use waxed vegetable tanned leather to avoid pollution which is often caused by standard chrome tanning.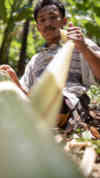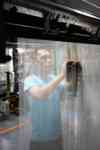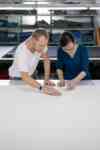 MATERIALS & SUSTAINABILITY
The largest part of todays textile production involves plastics, with dramatic impact on nature and humans. We chose to develop our own materials and use natural fibers wherever possible to achieve the highest sustainability. Using organically grown fibres and PFC-free water-repellent coatings allows us to avoid harmful substances and make healthy products. Next to our own high density organic cotton canvas, we have just released Bananatex®, a new shell fabric made from the fibers of banana plants. Close to 100% of the fibers used in our products are natural and renewable.
We use Rayon, Cotton, or Nylon for belts and straps, and the metal parts are made of aluminum or steel.

We believe an important aspect of sustainability is durability. The vegetable tanned leather handles and details darken and become softer over time. Natural materials generally tend to have irregularities, which we embrace as a quality that adds individual character to the look of our bags. Even though our natural canvases cannot quite match the resistance of petroleum based materials like Cordura, Kevlar or Trucktarps, the materials and level of workmanship we offer is meant to hold up to years of daily use. The Swiss modernist design heritage has influenced our thinking, making continuous development and improvement our focus.