READ / NEW VEGAN EDITION
STEFANIE MOSHAMMER CAPTURES OUR NEW
100% VEGAN DRIFTWOOD EDITION

The debate surrounding the use of leather to make products is complex, with strong opinions exchanged within the QWSTION team as well as amongst our community. The cowhides we've been using to make the parts of our bags that are exposed to the most wear and tear are essentially a byproduct of food manufacturing. This informs the nose-to-tail argument that if we already eat meat, we shouldn't let other animal parts go to waste.

Others still avoid all animal products both in what they eat and wear. Yet for them, the vegan material options available have – up until now – mostly been plastic-based. As everyone in our team agrees on is that avoiding plastic should stay our top priority, we're proud to have developed a solution that offers a vegan option without trading leather for plastics: our new Vegan Driftwood Edition. The range comprises the Office Pack, the Day Pack, the Small Tote and the brand new Halfday Tote – a compact redesign of our bestselling Tote. Each style is made from supple, high-density cotton canvas, which also forms the basis of newly-developed handles, and straps – offering a durable alternative to leather.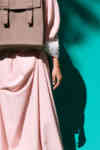 To mark the new Edition's launch, we gave QWSTION collaborator and dedicated vegetarian – the brilliant Viennese photographer Stefanie Moshammer – a carte blanche to capture its material qualities in her distinctively captivating style.