READ / SEASONAL EDITION
QWSTION + SIBYLLE STŒCKLI
TRAVEL SHOPPER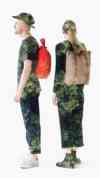 Our lightweight Travel Shopper has been a mainstay of the QWSTION collection since we launched it in collaboration with product designer Sibylle Stœckli. Now we're releasing a fresh Seasonal Edition inspired by intrepid journeys to faraway destinations.
When Sibylle Stœckli was traveling the world for her Global Design Research project in 2012, she noticed the need for a lightweight bag that she could quickly transfer her essential items into once she'd deposited her luggage at each new destination.
Our response was to apply QWSTION's signature craftsmanship and functionality considerations to the creation of a light nylon shopper that doubles as a backpack, and can be folded into a compact zip pouch when needed. 100% vegan and made from polyamide, the Travel Shopper hardly adds extra weight to luggage, while TH coil zips and nylon straps provide sturdiness and make it a practical carry solution for trips of all durations.
Now, we're releasing the Travel Shopper Seasonal Edition with four tones inspired by trips through remote terrain: Earth, Lava, Volcano and Ocean. The choice of these shades is a tribute to the thrill of adventure evoked by otherworldly landscapes, and the sense of seclusion that journeying through them induces. It's a feeling that both relaxes and excites – and one that Swiss photographer and seasoned explorer Martin Bissig captured in the editorial campaign he shot to accompany this new release.

SEE ALL TRAVELSHOPPERS