READ / Q&A
THE MAKING OF QWSTION HAUS
Questions and answers with Hannes Schönegger, Co-Founder
by Anna Dorothea Ker
Against a backdrop of sloping alpine forest and jagged mountain peaks, a solid wood cuboid contrasts harmoniously with its surrounding landscape. Welcome to QWSTION Haus, a compact building created to cater to QWSTION's need for increased warehouse storage, office, meeting and studio space.
Striking in its simplicity, QWSTION Haus was designed according to the same functionality, aesthetic and sustainability considerations as the brand's bags are. Built from local pine, the structure only took a four months to assemble – a process which included the integration of a geothermal energy source, which allows the building to be completely energy self-sufficient. QWSTION Co-founder and CEO, Hannes Schönegger – who led the project together with Seefeld architect Michael Sailer – sheds light on the coming-together of a highly functional building.
In 2018, QWSTION directed its design philosophy towards an architectural brief: for the QWSTION Haus in Reith bei Seefeld, Austria. What were the main requirements this project needed to fulfil?

From the beginning, our main objective was to create more space for the storage of our bags. We've been constantly growing over the years – starting from a garage and transitioning through many different rented spaces – and it got to the point where we didn't have enough capacity either for storage or office space, so we needed extra volume and square meters.

The first idea was to create a building that was as compact as possible. Next came the question: Which building materials should we work with? It made sense that we would use renewable raw materials – and, given where we are, in an alpine area, that's wood.
Another requirement was to create an atmosphere that's aligned with our stores and our studio, which fits the brand and us as people. That's how these elements came together, and ended up resulting in the house we have today. The planning phase took six to nine months, and there were another four months between the start of the building process and the move-in date.

In addition to warehouse storage, QWSTION Haus has an office space with room for five, a small photo studio where we do shots for the website, and a meeting space where everyone in the company meets twice yearly to set the agenda for the months ahead. Additionally, there's a small studio from which we send samples and patterns for Bananatex® to all corners of the earth.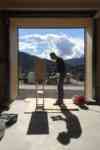 How would you describe the atmosphere that unites QWSTION Haus, your studio and stores?
It's a pleasant, warm atmosphere, characterised by clean lines. It feels natural, and exudes a sense of wellbeing. In our stores and offices, wherever they are, the circularity of materials is central. We always work with honest materials, and we like to make their use transparent.
Wood was the natural choice for QWSTION Haus, because it has a long tradition as a building material in this area. There's a large area of alpine forest near Seefeld, and we sourced our timber from nearby. Building with wood is having a renaissance – even for high-rise buildings – because it offers a lot of possibilities, and creates a warm, comfortable atmosphere.
It's also a very sustainable material – a consideration that's integral to QWSTION's design process. QWSTION Haus, too, was constructed to prioritise sustainability: the building is energy self-sufficient thanks to an integrated photovoltaic system, geothermal energy heating, and window and insulation systems designed to conserve heat. What were the key considerations for integrating these elements into the design?
There are several ways to supply a building with energy, but very few of those ways avoid the use of fossil fuels. One that does is an air or geothermal energy system – which was the clear choice for us. This method required us to source a lot of energy from the ground to bring into the building, so it was apparent that we would generate this electric ourselves. Step by step, we created a system that is CO2 neutral, as it has no emissions. The statistics for 2018 show we produced just as much energy as we used – and we don't always use it at the time we create it. When there's a surplus, it flows back into storage for later use, and we withdraw it when we need to use it again. This allows us to be completely self-sufficient.

You worked together with local architect Michael Sailer on the build. How would you describe the collaboration process? Which new impetuses did he bring to your ways of working?
Naturally, Michael brought the experience and the viewpoint of an architect. For us, the integration of function into aesthetics, as always, was key – it was in this realm that the most dialogue occurred between us. We gave input on how we wanted to combine the functional with a timeless, interesting aesthetic. He was perhaps more pragmatic when it came to function, and we would bounce back ideas for how to make it more aesthetic.
Can you elaborate on the aesthetic that resulted?
It's characterised by simplicity – but at the same time it's visually appealing, right down to how we aligned the windows, or the design of the facade. That also goes for the way it's been integrated into its surroundings, both in terms of materials and form. It doesn't stand out – it respects the landscape in which it's situated.
The building was awarded a 2019 Tiroler Holzbaupreis (Tyrolean Prize for Timber Construction). Congratulations! Which functional architectural details are you most proud of?
The statement of the jury meant a lot – we were up against several exceptional timber projects, but in the end, the prize was awarded to us due to the building's simplicity, and the consistent way in which functionality was integrated all throughout. That was nice to hear, because that's exactly what we were striving to do with it.