READ / COLLABORATIONS
QWSTION + RAFAEL KOUTO
THE ART OF UPCYCLING
Young Swiss designer  Rafael Kouto has been making waves in the fashion industry by using returned, unwanted garments as a resource in the creation of his collections. What makes this especially innovative – and effective – is Kouto's way of hacking the garment recycling system by working directly with TEXAID, one of Europe's leading organisations for the collection and recycling of used textiles. His methods of deconstruction and reassembly have given sustainable fashion an artistic twist with surprising results.
SUSTAINABLE DESIGN
By giving materials which have fulfilled their original purpose a new lease of life, upcycling contributes to a more sustainable future. Creating products from new biodegradable materials is another way to do so – the one which we've been pursuing, and which recently peaked in developing Bananatex®, a fabric made from naturally-grown banana fibres. 
However, using natural fibers is no walk in the park and sustainable production methods like dyeing with OekoTex100 Standard pose new challenges. Colours may fade over time, as colour fastness is lower than with other, less sustainable processes. Our natural materials develop a patina with time and wear, just like a good pair of jeans do. In the past, this has surprised some of our customers, and led them to return bags for aesthetic reasons: namely that their bag's appearance changed after some time in use. These used and returned bags were the material and the starting point of our collaboration with Rafael Kouto.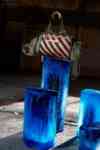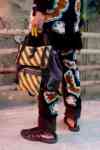 RAFAEL KOUTO + QWSTION
The upcycled Rafael Kouto + QWSTION pieces are part of Rafael's collection "Suspended bodies that never fall", which will be presented at the 15th edition of Mode Suisse in Zurich on Monday, the 4th of February. Our bags have been transformed into new multifunctional pieces that are made to order. They will be on display together with Rafael's collection at QWSTION Store Zurich from 05.02.2019 to 16.03.2019.