READ / PLATFORM
QWSTION INVITES
LEHNI SWISS MADE

Finding new synergies through collaboration with our local communities has long been essential to our philosophy. Over the years, we've invited several creators who share our approach to cultivating positive change to tell their story and showcase their (or our co-created) offerings in our stores. As part of our renewed QWSTION concept, this format for dialogue and exchange will continue to be key element, with a twice-yearly showcase spotlighting a single partner – or the results of a partnership. Here we highlight who's up next in QWSTION Stores in Zurich, Lausanne, and Vienna – through February 2022.
Clean forms, superlative quality, resourceful production methods: It was these trademarks of Lehni, a celebrated purveyor of Swiss metal furniture production, that caught the eye of Donald Judd when the master of Minimalism visited Switzerland in 1984. Over the years to come, a partnership between artist and manufacturer evolved from a sculpture commission into a furniture line, which Lehni today retains the exclusive right to produce. It wasn't until 2021 that the company would embark on its next creative collaboration – together with QWSTION – evolving a selective yet storied history into a new direction under the shared vision of everyday goods crafted to endure.
To accompany the presentation of our collaboration outcome, the Lounge Chair Ensō, at the QWSTION Invites platform in QWSTION Store Zurich, we invited Ursula Menet, who has led the current generation of Lehni together with her brother Heinz Menet since 1998, to shed light on the industry norms that the discreet icon of Swiss design heritage has been steadily challenging since its inception just shy of a century ago.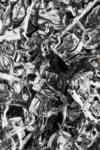 Q: WHICH QUESTIONS ARE YOU INTENDING TO ANSWER WITH LEHNI?
Ursula Menet: Lehni makes a contribu­tion to metal furniture in the design sector through reduced forms and clear lines, enabling home environments to be shaped by high standards of both form and function while minimising resource use. Durability and timelessness are central to our designs.
Q: WHAT KINDS OF MATERIAL DO YOU WORK WITH, AND WHERE DO THEY COME FROM?
UM: The DNA of Lehni furniture is aluminium: a resistant and durable material that can be easily shaped, bent and stretched. Our finishing treatment methods can be applied to a wide range of resistant surfaces. We also incorporate sheet steel and wood into our collections.
Q: HOW DO YOU INTERACT WITH THE PEOPLE ALONG YOUR SUPPLY CHAIN?
UM: Our suppliers are all companies that we hand-pick to meet the quality standards of Lehni furniture. Together with those suppliers, we develop new standards for production. Mutual respect for craftsmanship and competence is a fundamental foundation for successful cooperation.
Q: WHAT ASPECTS ARE MOST IMPORTANT TO YOUR MANUFACTURING PROCESSES?
UM: A high level of manufacturing precision, reproducibility, and quality assurance are essential to meeting our design requirements in terms of assembly, functionality, form and details. The prerequisite for this is our custom machinery pool. The most important aspect, however, is the competence and expertise of the dedi­cated employees who carry forward Lehni's long tradition of furniture production through their commitment.

Q: WHERE DO YOU SEE YOUR RESPONSIBILITY TO OUR SOCIETY FROM YOUR VANTAGE POINT AT LEHNI?
UM: Within the tradition of Swiss precision manufacturing, Lehni strives to produce high-quality, durable – that's to say, sustainable – furniture with a high utility value and timeless forms. Since 1958, we've continually succeeded in developing design classics that set furniture trends and provide lifelong enjoyment. In doing so, we attach great importance to the minimal use of materials and resources. We've always lived by the spirit of producing furniture that can be recycled – as embodied by our classic 1964 Aluminium Shelf.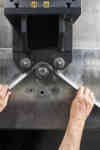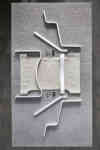 Q: HOW DO CONSIDERATIONS OF FUNCTIONALITY AND LONGEVITY INFORM THE LEHNI AESTHETIC?
UM: Design history teaches us that functionality is a necessary attribute of a piece of furniture. Aesthetics, on the other hand, demands an economical use of materials, forms and connection techniques. Longevity requires the use of materials that meet the demands of durability. We fulfil and harmonise this demand on the basis of aluminium – a recyclable material.
Q: WHICH NORMS (WITHIN YOUR INDUSTRY) DO YOU FIND WORTH CHALLENGING?
UM: The major trend we see is heading more and more towards mass production and low prices. Unfortunately, this leads to material combinations and production processes that are not sustainable. Due to the mainstream use of petroleum-based and other extractive plastics, furniture is becoming increasingly short-lived, and prone to wear and tear.