MEET / QWSTION CRITIC
ZOË DENAULT, ARTIST
Zoë Denault is an artist in Vienna and our new QWSTION Critic. She owns the Bananatex® Tote XL.
If I would need to live in a bag, this would be it
HOW WE KNOW ZOË
Zoë is our dear friend and a daily visitor to the QWSTION Store Vienna for several years now. She has a great eye for all things design, art and architecture. Her kind and open nature captivates you immediately and you can't stop chatting with her when she's around. She has a talent for aesthetics in every form and across many disciplines: painting, ceramics, photography. Zoë and QWSTION are a match made in heaven.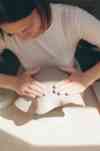 WHAT LED YOU TO WHAT YOU DO TODAY?
I'm half Austrian, half Canadian, and I was born and raised in Tirol. I come from a background in fashion, direction, styling, interior design and editorial work. I took every opportunity to get involved in the creative industry by working with photographers, artists and even architects. After living almost one year on Bali, I moved from Innsbruck to Vienna and worked for an architect. I guess my curiosity and openness lead me to where I am now. I probably do way too many things at once, as I always seem to find myself involved in too many projects. But it makes me happy to be surrounded by wonderful humans and to be doing what I love.

WHAT DO YOU CARE ABOUT IN LIFE?
Seeing new places and travelling has always been such a source of inspiration to me. I love nature, the flora and fauna, the people I meet, my beloved friends and being open for connection. Being a good mother and giving my child the tools to live a happy and fulfilled life and to love her purely. To be constantly growing and evolving. I care most about sustainable happiness, about physical and mental health. I care about the relationships in my life, the deeper connections. And I care about the little pleasures in my daily life.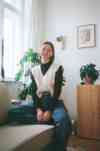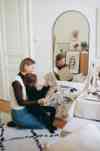 HOW DO YOU ADDRESS THIS IN YOUR WORK?
I believe each one of us has a stronger affinity with a specific medium, for me this is painting, capturing moments and working with clay. But also the urge to get in touch with creative individuals. I always loved the idea of creating a visual narrative of my life to share with my family and others in the future. I can see the benefits it is having on other aspects of my life, by teaching me unpredictability, respect, connection and most of all patience.
WHAT DO YOU LOOK FOR IN THE THINGS YOU BUY?
I have to admit I'm a sucker for design, aesthetics and nice things. But also I want useful stuff. The older I get, the more my consumption has changed. I'm buying things to keep not to just have. I try not to buy things I don't necessarily need. I do spend a lot, if not to say most, of my money on traveling or time activities and, well, food...