MEET / QWSTION CRITIC
YANNICK AELLEN,
FOUNDER MODE SUISSE
The Roll Pack is with me every day. I like how the texture is slightly changing, but not too much.
OUR CONNECTION TO YANNICK
Our Co-founder and Art Director Matthias got to know Yannick while they both were working for the Swiss Textiles Award several years ago (side note: that award helped kick-start the careers of Raf Simons and Henrik Vibskov.) Yannick then went on to establish the Mode Suisse platform, which has since supported countless emerging Swiss fashion designers in building their brand and pursuing their vision. His long-term thinking and a persistence that transcends borders have made him one of the most important personalities in the new Swiss design movement. We gave him our Bananatex® Roll Pack in All Black to test out, and the bag has since become a staple. "On the inside I wouldn't mind a little more organisation," he told us, "but I love the look and feel of it."

@yannickaellen
yannickaellen.com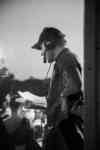 WHAT LED YOU TO WHAT YOU DO TODAY?
Already as a kid, I loved the stage, beauty, fashion, and music performance. After I started working as a booker in a modelling agency in my early twenties I was mainly in charge of fashion shows. I loved seeing how all these things come together at them: the beauty, the music, the lights and the right audience. I was especially smitten by the performance aspects of the show. And then, pursuing this more performative side of fashion, I met more and more young independent fashion designers – and learned about their struggle to find support, meet buyers and the right media people. This is what made me realise the need for the platform Mode Suisse, which I have been doing now for just over a decade.

WHAT DO YOU CARE ABOUT IN LIFE?
I care about my family, friends, colleagues, designers and the clients I work with. I equally care about nature. And that we all do what we can, even little things, in order try and keep our planet a little bit safer.

HOW DO YOU ADDRESS THESE WITH YOUR WORK?
Well, it's the magical moments that have kept me in the fashion industry. Of course, you meet some very lovely people, but what we do is not only all about 'fashion, fashion'. It's more like a cultural happening – this is how I see it, and how we live it. For that reason, I've always tried to spread the love in what we do. I always try to put as much passion as I can into my work and into my interactions with people.

WHAT DO YOU LOOK FOR IN THE THINGS YOU BUY?
I am definitively in a phase in which I'm buying less and less. I try to only buy things that I feel a need for, from food and home stuff to things at the office. When I buy things, I like them to be of very good quality so that they can be with us for as long as possible. I love when the quality of a piece is so good that you can use it for over 10 years, or even 60. This, I think, is the best feeling.


The only area in which I'm a bit of a big spender and buy a little more is, of course, fashion. But even there I've been trying to cut down as much as I can. When I buy things, I want to love and carry them with me for a long time. As I work with young and upcoming designers, I am often surrounded by them and I like to support them by buying a pair of trousers or a jacket that I wouldn't really need. But through knowing those designers personally I really know how and where the garments are made. Usually the materials are sourced locally. I never go to the big fast fashion stores. Even for my underwear and socks. I really try to do the best I can.