MEET / QWSTION CRITIC
YAËL ANDERS & KIM PHAM,
DESIGNERS
QWSTION designer Aline first met Kim during her studies in Lucerne – Aline was pursuing product design, and Kim textile design. A few years later, their paths crossed again in Zurich, and led Aline to Yael, a colleague of Kim's at a carpet design studio. These days, the versatile designers work on a range of freelance projects, from analogue photography (Kim) to an annual diary called Planner (Yael). The friends also work together, and have some promising projects in the making. While we're keeping an eye on their work, they lent their eyes to our brand new BioLight Collection bucket bags.

Kim Pham
@kiminelle

Yael Anders
@yaelanders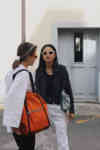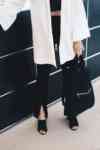 Yaël on the BioLight Medium Bucket in Raven
Fine, raw, real and natural.
A fascination for haptics, form, and all things analogue have defined Yaël's distinctive aesthetic. As someone who buys less but better, she places a high value on how things are made. "It's important to be aware of the production process of a product to fully stand for a brand I use in my day to day life," Yaël told us. "I like the way QWSTION constantly searches for alternatives and new ways of possibilities." While the new toggle system took her a while to get to use, she appreciated the handfeel of her Medium Bucket, describing it as "Fine, raw, real and natural."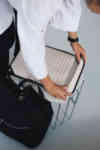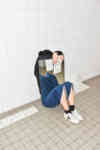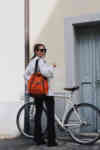 Kim on the BioLight Mini Bucket in Heron
Kim inherited her father's love for analogue photography, and hasn't stopped taking pictures since her first darkroom development session. An interest in materiality has been a constant factor in her life, leading her to study textile design. BioLight is "Very finely woven, light and soft," she told us. Its breezy nature also appealed:
The bag is so light that I hardly feel it when I wear it.
The one thing she'd adjust are the straps, which for her could be adjusted a little tighter. As for the colourway – Heron, named after the majestic bird – Kim appreciates the crystal grey tone, which she describes as "calming and coordinating with other colours."