MEET / QWSTION CRITIC
VIOLA HOU, FOOD BLOGGER
AND ECO-ADVOCATE
OUR CONNECTION TO VIOLA
This month's critic is London-based food blogger and eco-advocate Viola Hou of The Sunshine Eatery. The QWSTION team love Viola for her down-to-earth character and her inventive vegan recipes that are of a true international nature. Born and raised in Darmstadt, Germany to Chinese parents and educated in the States, Viola's cooking reflects her deep understanding of different cultures.

@thesunshineeatery
WHAT LED YOU TO WHAT YOU DO TODAY?
I started The Sunshine Eatery in early 2015 from a deep interest in healthy and nutritious foods as well as photography. Creating recipes, styling dishes and taking visually pleasing photos soon became a great passion and an integrated part of my daily life.
Over the years, The Sunshine Eatery expanded past the sole creation of wholesome and delicious foods and became more focused on leading a healthy and sustainable lifestyle. I am deeply passionate about the environment and showing how every one of us can do their part towards a more sustainable and ecofriendly lifestyle. The greatest joy comes from being able to use my voice for good and something I really care about.

Simultaneously, I work in the field of marketing at a large consumer goods firm and try to implement changes in our innovations that are in favor of the environment and have a huge impact down the line. As an individual and consumer I can control what I buy and which brands I want to support, however, without the help of large corporations making better and greener products in the first place, it will be hard to make real change on a larger scale.

Thus, I strive to do both: Encourage people on an individual level to opt for more sustainable choices and habits in their lives while also trying to work the corporate side to design better products for your average consumers who aren't as engaged and conscious of the environment.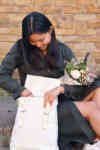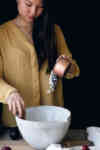 The intricate details of the bag really feel like the perfect marriage of design and functionality.
WHAT DO YOU LOOK FOR IN THE THINGS YOU BUY?
I always go by 3 principles when buying things:

1. How long is this product going to last me?

2. How much use do I think will I get out of it/How much do I really need it?

3. With what standards in mind was it designed?

For me one of the main factors that determine whether I would buy something is whether I believe that I really need it, will use it frequently and whether it will last a long time. I will always choose to buy something that is timeless, can be put to use in many different ways and that is also designed to last for a long time.

Thus, I invest in basics, neutral colors and multi-functionality and tend to only look at brands that design with sustainability in mind and that meet my own standards in regard to animal-cruelty, circularity (e.g. recycled materials) and ethical/fair productions.