MEET / QWSTION CRITIC
JESSICA & RENATO, HOTEL OWNERS
Jessica Fernando and Renato Kümin are hotel owners. They run Mond in Sri Lanka and are based in Sri Lanka, Switzerland and Mallorca. They own the Mini Bucket, Bananatex® Tote Bag, Bananatex® Sleeve and Toiletry Kit.
I think this it's a very Swiss mentality: what I buy should be timeless in both its design, as well as its quality
HOW WE KNOW JESSICA AND RENATO
Jessica is like a sister to Matthias, QWSTION's Co-founder and Art Director, they have known each other for many years.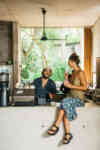 WHAT LED YOU TO WHAT YOU DO TODAY?
It was less of a specific moment in time and more of an evolution. Our relationship has naturally deepened and become more entwined and enriched every day since we met. And I think we are living this life where the lines of work and play become very blurry. It's not specifically what that has led us to where we are today, more who. First it was just us, Renato and Jessica, led by our passions and interest to creating our hotel in Sri Lanka called Mond. And today our daughter Ru is giving this form a new shape and direction. Which is why we are currently in a very Interesting stage of our lives, geographically between Sri Lanka and Mallorca, professionally between Mond and something new, emotionally all over the place.
In terms of Mond, the German word for Moon aligns directly with our hearts and beliefs. Its magnetic nature with the tides has always been a symbolic metaphor for the ebbs and flows of the human condition. We have always had a connection to the ocean and its seems only fitting that we have now created our lives to revolve around it in later life. Being constantly surrounded by the power of the ocean living on these two island paradises, we have come to really understanding and work with the moon, the ocean and ourselves to unlock hidden pieces that make up our personal psyches. Our experiences with these cycles have played an integral part in the creation of Mond and it's counterparts. We always strive to self-understand and to grow in this capacity, to let the rhythm of nature guide us in its ways, surrender to what is meant to happen – this is what Mond is, in its totality.
WHAT DO YOU CARE ABOUT?
I would say community, our planet and how we treat it, personal growth and self-reflection and time – how do we actually spend it, so it feels meaningful to us.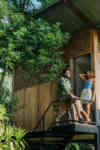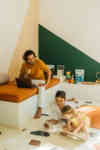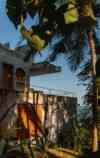 HOW DO YOU ADDRESS THIS IN YOUR WORK?
Mond is a place for people to slow down, connect, experience, and create. It is a multifaceted concept that offers a lot of different energies in a small space. The driving force behind this project is always to reconnect everyone that walked through the door to a sense of peace and self-awareness inspire creativity and curiosity within.
This concept really speaks of the inherent connection that humans have to the planet, which is shown through the fundamental infrastructure and processes that are now classically Mond. Environmental design, sustainable waste management, impact awareness, solar power and minimising plastic use are just a few of the main focuses that steer us away from the old world that has led to the destruction of our Earth. The undeniable connection to art and design through self-understanding is something for others to replicate, this reconnection to nature and the slowness of life in Sri Lanka is what inspires Mond.
It's not only the cafe, bar and accommodation that lend to and showcase these experiences and ideals but the creative studio and art residency program too. Local and international artists are able to participate in these residencies resulting a body of work to be exhibited at Mond, creating a sense of union between community, art and culture in Southern Sri Lanka.
WHAT DO YOU LOOK FOR IN THE THINGS YOU BUY?
Longevity and craftsmanship. I think this is a very Swiss approach: what I buy should be timeless in both its design, as well as its quality. Also I tend to not buy new when it comes to fashion, I love a good hand-me-down. It is way more ecological, economic and fun.