MEET / QWSTION CRITIC
GARETH PON,
PHOTOGRAPHER & CREATIVE DIRECTOR

OUR CONNECTION TO GARETH
Gareth has been using our products for years and approached us at one point to give us some feedback. We instantly noticed his precision – not only in the comments he gave us, but also in his inspiring photographs, often capturing urban environments and their inhabitants. Through his work he continuously questions the norm and always is in search of perspectives that are different, which made us connect right away.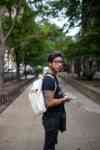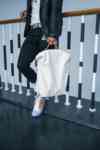 WHAT LED YOU TO WHAT YOU DO TODAY?
I've always said that my life is the current result of making all the right mistakes. I've had a long history of being involved in various creative fields, including fashion design, film, architectural drafting, animation, etc. - I've since found myself as a creative director in Chicago, I joined the current agency I'm with a few years ago as a Senior Content Creator. Prior to that I was running my own company in South Africa, doing a mix of content creation, influencer work, creative consulting and production. I've since worked my way around the industry since moving to the US and took a more untraditional approach to growing in the industry. I've been lucky enough to have great mentors who have always guided me along the way. I still create photo and videos on a personal basis, recently I've been returning back to the more tangible mediums like drawing.
I believe that a healthy curiosity of each other's stories is what makes life beautiful.
WHAT DO YOU CARE ABOUT IN LIFE?
I've always cared about the "narrative" of life. What people's stories? I believe that a healthy curiosity of each other's stories is what makes life beautiful.
HOW DO YOU ADDRESS THIS WITH YOUR WORK?
I've always been a story teller, whether it's randomly just telling new friends a tale or writing a blog post for a friend. I always communicate from a narrative, telling as much of the backstory as I can to give people the insight they need to relate to what they're hearing. With my work, I try to show the bigger story, the narrative that makes the work have depth.
I love a product that has a good story.
WHAT DO YOU LOOK FOR IN THE THINGS YOU BUY?
Similarly to what's important to me, I love a product that has a good story. I'm also a very nostalgic person, so that plays a big part in the things that I really value.

I think there could be a more intuitive way to lock the bag since all your other products are very intuitive to lock.
NOW THAT YOU'VE USED THE ROLL PACK FOR A WHILE, WHAT ARE YOUR FINAL THOUGHTS ON IT?
I use this bag day in and day out, I have both colors I love it so much! It's a very durable bag and the side zipper is really convenient when needing access to items at the bottom of the bag. At first I was concerned that the material wouldn't last long (I'm pretty aggressive with my backpacks), but I've had it for a few months now and it's as if the bag is still brand new.