MEET / QWSTION CRITIC
DAVID GLÄTTLI, CREATIVE DIRECTOR AND DESIGN CONSULTANT BASED BETWEEN TOKYO AND ZÜRICH
David has lived and worked in Japan for several years, where he connects Japanese brands with upcoming European designers – notably in his role as creative director of furniture brand Karimoku New Standard. He was one of our very first customers at the QWSTION flagship store in Zürich which we opened in 2015 (by the way, we're searching for a new location – hit us up if you know of anything in Zürich that could fit!). Since then, we've regularly exchanged ideas on how to re-establish connections between people and the objects the use every day – as we believe is key for a more responsible society.


I took my new Travel Pack on its first trip last weekend – to Brussels. First of all, I just love the heavy-duty material inspired by Swiss army bags and the smart details that reinvent the parts commonly made from plastic. It also turned out to be very comfortable and functional companion, both on the flight, fitting everything necessary for 2 nights, and as daypack while touring the city by bicycle.

WHAT LED YOU TO WHAT YOU DO TODAY?
In the beginning: A love for observing and drawing, an interest in understanding why things look the way they look, the belief that there are alternatives to everything, Banana Yoshimoto and Philippe Starck (strangely).
WHAT DO YOU CARE ABOUT?
Family, my peace, learning, progress, positive impact, beauty, potential, balance between rest and excitement, familiar and unfamiliar, hope and resignation, reality and utopia, small pleasures and big pleasures, people.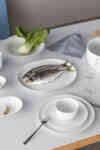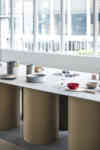 HOW DO YOU ADDRESS THIS IN YOUR WORK?
Working with people I like and admire, bringing them together to collaborate, trying to make things better.
WHAT DO YOU LOOK FOR IN THE THINGS YOU BUY?
Honesty, utility, simplicity, durability, attention to detail, sensibility for colour and material, an unexpected angle, good vibes.