MEET / QWSTION CRITIC
BARATHY AKKAN, MODEL
Barathy is a model. She lives in Zurich and models in Zurich, Paris, Milan, Spain and Germany for a large variety of brands. She owns the Backpack in Jet Black.
I went hiking with the backpack, I always use it as hand luggage when I'm traveling for work, on castings, and for grocery shopping! I like that it's all black, it's cool to use it as an allrounder.
HOW WE KNOW BARATHY
Barathy is a super good friend of Nicolae's, our copywriter, and Flavia's, our graphic designer. She also modelled for our Zip Pouch Campaign.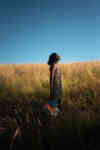 WHAT LED YOU TO WHAT YOU DO TODAY?
I'd say a lot of luck and good timing.
WHAT DO YOU CARE ABOUT?
People, a good laugh and hugs.

HOW DO YOU ADDRESS THIS IN YOUR WORK?
It's cool to meet a lot of new people on set and to talk to them about different things. I'm really interested in other people's lives: how and where they live, how they ended up doing what they're doing, what they're thinking about lately, etc. Oh and at the end of a shoot there are always lots of hugs.
WHAT DO YOU LOOK FOR IN THE THINGS YOU BUY?
Joy. And that it's practical and that I actually need it.