READ / NEW COLLECTION
MAXIMUM SUSTAINABILITY
WITH THE MINIMAL COLLECTION

After years of exploring how we could develop an alternative to the plastic fabrics that currently dominate the bag market, we launched our answer – the fully biodegradable Bananatex® – together with two new bag designs which showcase the fabric's durable, water-resistant qualities through radically different approaches to material consumption and construction. Those were the Roll Pack and the Hip Pouch. Now, we're pleased to announce a third design to complete the collection, the Zip Pack, which too is based on the three-fold concept of minimal aesthetics, minimal waste and maximum sustainability.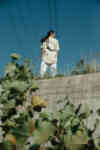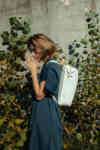 Made in a medium size with workdays in mind, the Zip Pack has just the right amount of space for your everyday essentials. The shape shifting and water resistant main body can lean towards a tote bag, or take on the look of a more square backpack. Small and medium-sized inside pockets and a Merino felt-lined sleeve which fits up to 15" MacBook Pro® help to organise content. Special YKK® metal zippers made from cotton tape allow direct top- as well as side access to the main compartment, while keeping frequently-used items accessible. A modular handle and adjustable backpack straps provide versatile carrying options. The Zip Pack is available in three colourways: Natural White, All Black and Gravel.
The Minimal Collection – Made From Bananatex® is now available at our flagships in Zurich, Vienna, Lausanne and Copenhagen, our retail partners around the world, and as always, online at qwstion.com.