READ / NEW STORE CONCEPT
A RETAIL (R)EVOLUTION

At QWSTION, our lines of enquiry into how things can be done differently extend beyond what we create to inform our entire world – including the experience in our physical stores.
Since Day 1, we've centred the QWSTION Store concept on creating a dynamic community hub – a platform for exchanging ideas on cultivating positive change for the planet, using our skills and expertise in the field of goods for everyday use.
In an era where how and why we shop is evolving rapidly, the purpose of bricks-and-mortar stores is changing rapidly, too. Rather than simply providing places to view, try on, and buy, stores are becoming physical manifestations of the values and vision of the brands they represent – ideally ones that engage in dialogue with the communities in which they're embedded.
At the same time, as we become increasingly discerning about how we spend, provenance, values, and ethics matter more than ever. As these elements are fundamental to us, we're always looking for new ways to share more about how our goods are made, and what they're made from.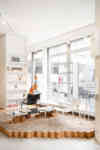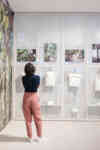 Transparency is key to building trust. This is the philosophy around which we've redesigned the QWSTION Store concept to embody a singular focus. Taking centre stage are our everyday goods made from plants instead of plastic, which exemplify our circular thinking.
What will this look like when you next step into a QWSTION Store? We're reducing the number of goods by other brands to give each collection more room to be experienced up-close, and to have its story told through elements both visual and tactile.
In addition, we're bringing our repair service out from behind the scenes to make transparent both the longevity and craft that goes into the design of our goods. A carefully chosen selection of other products that embody circular thinking will also be on offer through our 'QWSTION Invites' initiative: a 6-month showcase spotlighting one brand or designer.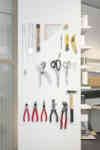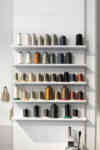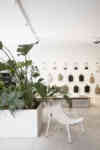 As usual with our work, design is key to the roll-out of this slow retail (r)evolution. In each of our locations, refreshed interior concepts realised entirely through recycled and renewable materials will expand the presence of our plant-based materials. At their centre, an oversized multipurpose desk will serve as a focal point for interaction and exchange.
Modular systems for the display of our goods will allow for further variation between the aspects of our collections that we want to emphasize. All in all, you can expect the same QWSTION essentialism and modularity, rendered clear through a singular focus.
We look forward to welcoming you back in our stores.