A MATERIAL (R)EVOLUTION
Watch the documentary on the development of Bananatex®. The world's first technical fabric made from banana fibre.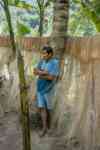 BANANATEX® – MADE FROM BANANA FIBRE
Bananatex® is the world's first technical fabric made purely from Banana plants which are organically cultivated in the Philippine highlands.
We've invested three years of research, testing and development to create a truly sustainable material that has our DNA woven into it, and offers an answer to questions we've been asking ourselves since day one.
QWSTION is about developing sustainable and flexible solutions for mobility. All of our bags come with multiple carrying options to adapt to your daily needs and pursuits - be that business, leisure or travel. As a premium brand positioned between fashion und function, we want our products to be durable and practical companions making your life easier. Our collections are timeless and evolve continuously. Reinventing the bag may be difficult – but enhancing it is not. Improving our products is an ongoing process we pursue with great passion.
Why are the vast majority of backpacks made from environmentally harmful fibres? The answer is simple: it's cheaper – largely due to the fact that fewer humans are involved in the process of making synthetic textiles than in that of their plant-based counterparts. This leads to another pertinent question: Is it better to prioritise consumer accessibility via a low price point, or to offer a steady source of income to a greater number of people? The complexity of tackling this challenge is enormous, which has motivated us all the more to find solutions.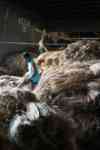 TOWARDS AN ANSWER
Since the beginning of QWSTION almost a decade ago, we've been exploring ways to make bags made from renewable resources – ones which are just as functional as they are sustainable. After years of testing natural alternatives to synthetic textiles, we achieved our goal of using only natural, organically grown fibres for the shell fabrics with our 100% organic cotton. The key was to develop a way to manipulate soft, flexible cotton fibres to create strong, durable bags. But we knew we could push ourselves even further, so we continued our research.


GOING BANANAS
In 2015 we first came across a plant of the Banana tree family known locally as "Banana Hemp" or "Abacá", and its potential as the next step in our sustainability mission was immediately apparent. The inherent properties align with our commitment to environmental, economic and social sustainability. Cultivated within a natural ecosystem of sustainable mixed agriculture and forestry, Abacá is sturdy and self-sufficient, requiring no pesticides or extra water. These qualities have allowed it to contribute to reforestation in areas of the Philippines once eroded by palm plantations, whilst enhancing the economic prosperity of its farmers.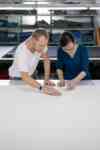 REFINEMENT OF THE RAW
During three years we've developed Bananatex®, a sleek, waterproof fabric made from 100% natural Banana fibres. At once super strong and durable, yet light and flexible, the natural beeswax coating gives it a smooth, water-resistant finish and a supple hand feel. Given our ultimate aim of offering a viable alternative to the synthetic fabrics that currently dominate the bag industry, we've developed Bananatex® as an open source project, and want to encourage other brands to use it.
For more details go to bananatex.info

Show all Bananatex Products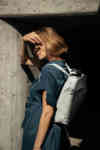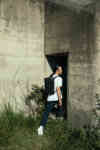 A COLLECTION FOR THE FUTURE
The learnings we've made through our research and experimentation are continuing to shape the direction of QWSTION on our journey into the future. With the new Minimal Collection we are more than doubling our product offering made with this radical approach. It consists of three different volumes: the small Hip Pouch, the medium sized Zip Pack, and the Roll Pack which can expand to a proper travel size of 25L.
All designs are based upon the characteristics of the Bananatex® material, with patterns designed to minimize waste in the cutting process of the individual parts. At the end of the bags' lifecycles, their fabric is 100% biodegradable, and their buckles and zippers can be recycled. Maximum sustainability combined with the versatility needed in everyday life is the essence of this collection.